For pre-martial counseling for Miracle Temple
members please fill out our contact form.

Call our confidential counseling hotline to schedule an
appointment at 410-368-9294. The MT Counseling Center is staff by licenced professionals.
Click here to download
our brochure and the FAQ's.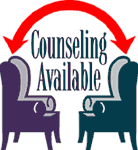 If you have a crisis:
Certain situations require immediate attention. If you are having suicidal feelings, or having difficulty controlling the urge to hurt yourself, or anyone else, you need to deal with this NOW. If you are feeling unable to handle the situation right now, call an emergency line right away.
For life-threatening situations: 911
Confidentiality
In all of its services, the Miracle Temple Counseling Center follows the Code of Ethics of the American Counseling Association in providing confidentiality to our clients. All of our clients aged twelve years or older have the right to have the matters in counseling sessions kept strictly confidential, except in a very few legal situations.

These limitations are:
When child abuse is suspected
When elder abuse is suspected
When imminent physical danger to self or others is present
When knowledge of a serious crime is revealed
When ordered by a court of law